Table saw is a machine used in workshop to make straight and precise cutting of materials. Thus by choosing a right machine can guarantee accurate cutting along with safety measures. This is a multipurpose tool that is widely used in all workshops. It is mounted on the table at its edge or at the center with a circular blade projecting out on the top. This sharp blade is connected to the motor through a gear or belt. When the motor starts, then the blade start to rotate at high speed and the material that has to be cut down is pushed towards blade. Usually this saw is used to cut wood. This table saw is found around for a long period of time and various types are available in the market. They also have adjustable blade mechanism to make different depth of cut. They can be seen in three different variants probably called as portable, contractor and stationary table saws. As each type of saw varies with their weight, price and horsepower, it is important to consider your usage and to check whether they match your restriction and budget.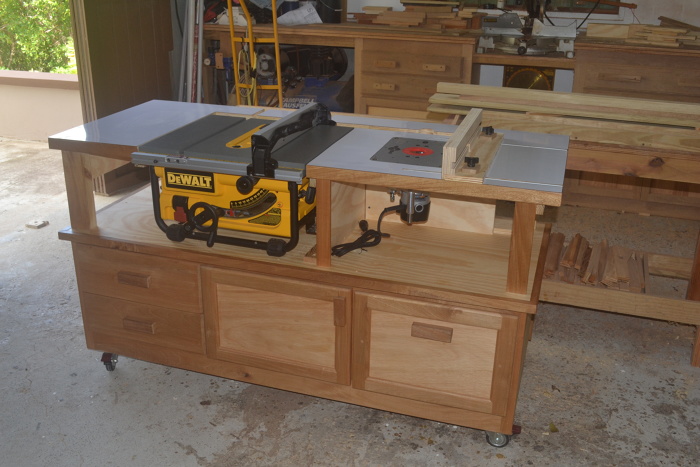 This is a lightweight machine which weighs between 30 to 100 lbs with lower horsepower capacity and the blade blade diameter will be around 10". As per the name, it is portable and can be transferred easily. They can be used for medium workloads like home projects. This is a space saving machine which is smaller in size.
Contractor table saw is next to portable table saw which weighs around 200 to 300 lbs. They can be portable only with the help of two people. Thus with the increase in horsepower, cutting exhibits the stability and power for larger workloads. This has the feature of long lasting performance and durability.
This is the largest and expensive machine among the three. Also this machine machine is called as the cabinet table saw because of its base platform. They weigh around 400 to 800 lbs and cannot be moved from one place to another. This has extremely high performance and best durability power with its cabinet design. Thus stationary table saw becomes the strong reference for professional workers.
A professional wood worker needs to find best cutting machine. So setting up the guidelines before making your move to buy one is important. Some features to consider are
To buy a saw main feature to consider is blade, as it is the hero of the movie. If you end up buying a dull one, then you will be left with cuts and bruises in your hand. Thus sharper blades can cut many woods with accuracy.
Find the suitable type of saw
As said before, choosing a table saw type according to your usage is essential. If you have small working area and if you prefer stationary table saw, then you will end up buying one that occupies your whole lot of your workspace with any empty space left out.
Be a wise cutter while choosing your table saw and end up with better work process.